ScootHop B1 Electric Scooter: A Compact Ride to Flee from City Traffic
Disclosure: Mashtips is supported by its audience. As an Amazon Associate I earn from qualifying purchases.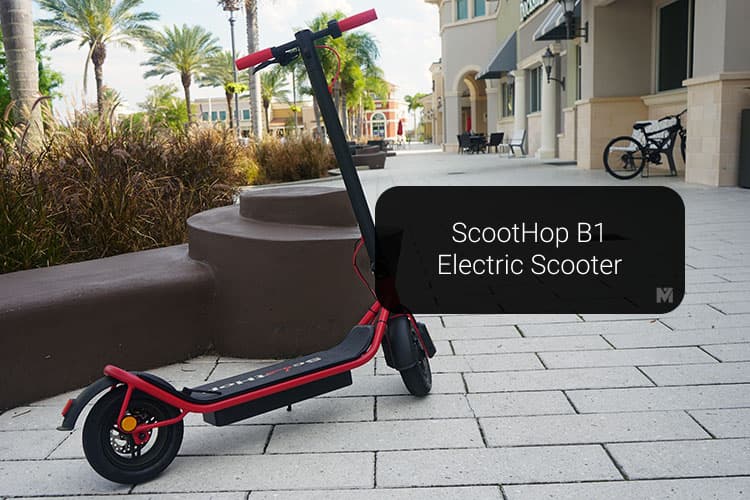 Electric scooters are the newest, best way to whizz around the city without bothering about cluttered traffic, expensive parking spaces, and rising gas prices. The ScootHop B1 Electric Scooter is a part of the paradigm shift that we have already entered the e-bike era. Of course, that's a topic for another time, but now, let's talk about the e-scoot in question.
The ScootHop B1 electric scooter has been with us for a little while and here is our riding impression with this handy scooter.
ScootHop B1 Electric Scooter: Overview
ScootHop B1 is an ultra-portable electric scooter that you can carry anywhere and ride along the city roads without worrying about battery range. The 10-inch air-filled tires can absorb shocks from any bumps and potholes while you ride, making it a smart choice for metropolitans. The Scoothop electric scooter is powered with 350W brushless motor good enough to cary maximum of 220lb (100KG) at top speed.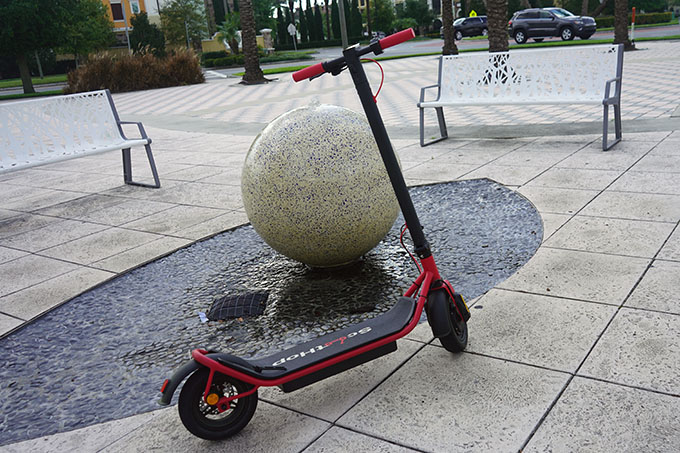 This durable electric scooter has a lightweight aluminum frame, assembled with all essential features including a headlamp, control buttons, and a display for speed and range information. It also has brake light and a reflector on the back, to alert others behind you. To get a better idea about how this e-scooter performs on everyday rides, we need to dive into more details.
Related: 12 Best Ebike Accessories and Parts to Buy
Design
Put all of the above together and we're ready to look at the design. Under the matte finish color is a high-quality yet lightweight aluminum frame. The frame alone weighs 39.7 pounds. However, that extra bit of weight is added by the battery and the motor that is under a 7.9″ width and 20.4″ length deck.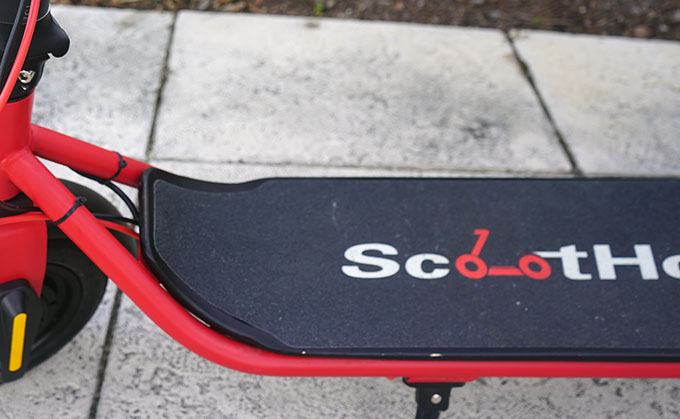 The 350W motor rate with 750RPM that offers maximum torque 6N.M that can handle the street with up to 15º sloped hill.
This should give you enough room to stand and move your feet around. However, the weight could translate to an e-scoot that could be a task to carry, since it is bottom-heavy as well. But that does not mean that it won't be stable. More on that in a bit.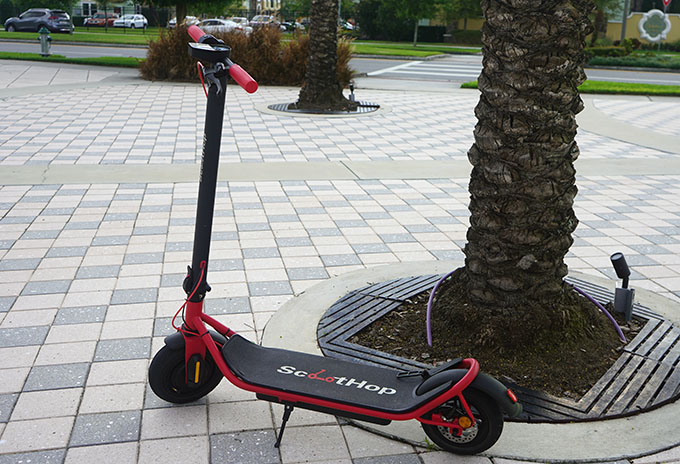 The deck we spoke about has a matte finish, enough for you to avoid any slippage. The deck can also take up to 220 pounds (100kg) of weight while still and while in motion (we have tried even with two of our team combined with ~250lbs and rides fine on flat roads). There is a kickstand on the left side to park the e-scooter conveniently anywhere.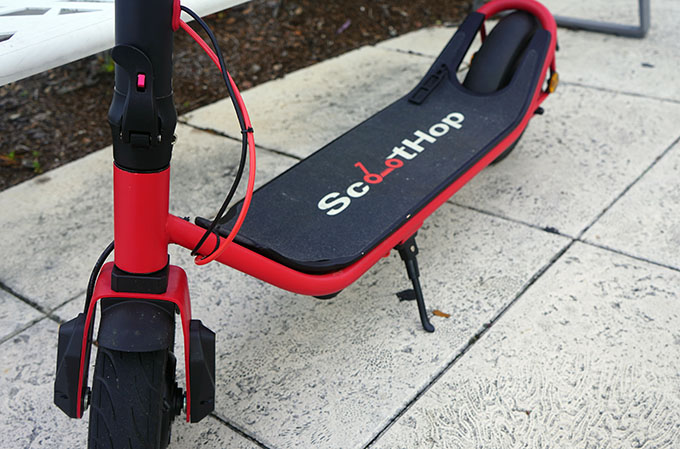 At the top, the ScootHop B1 Electric Scooter gets a black-colored handlebar that adds to the character of the e-scoot. On the handlebar, you will find a bunch of controls like a power button, and a menu button that gives you access to the E-scooters settings.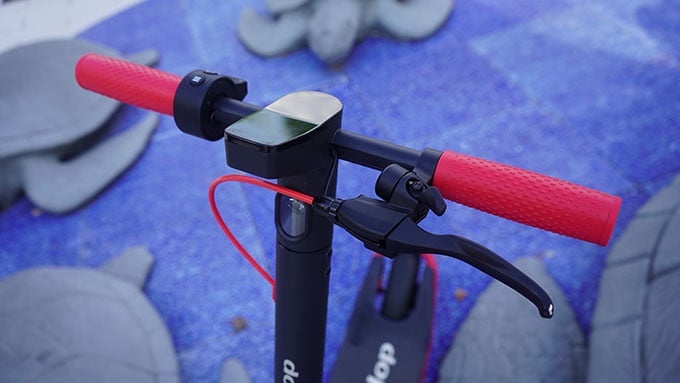 Scoothop has equipped the B1 with a LED display on this handle which gives a good touch of modernity. Reading out the current speed in kmph or mph (optional), battery status and riding mode on the go should be easy since it simply has a white-on-black design.
There is an additional mechanic bell next to the break liver that is good enough to alert the pedestrian while you ride. Since the scooter is pretty silent, this bell is a must to make the alerting sound while you drive the scooter.
They have given two options to choose the frame color from, Red and Yellow. This is the part of the frame that takes all the stress and strain since it connects the wheels.
Related: KBO Breeze Commuter eBike Review: A Solid Electric Bike for Daily Commutes
Reliability and Mobility
All the above is protected by an IPX4-rated for water-resistance ratings. Which means that you can ride in the rain. However, ScootHop does not want you to park it in the rain or bad weather for long. And to take care of that, they've given a provision to completely collapse the e-scooter to store in your car's trunk or under your table.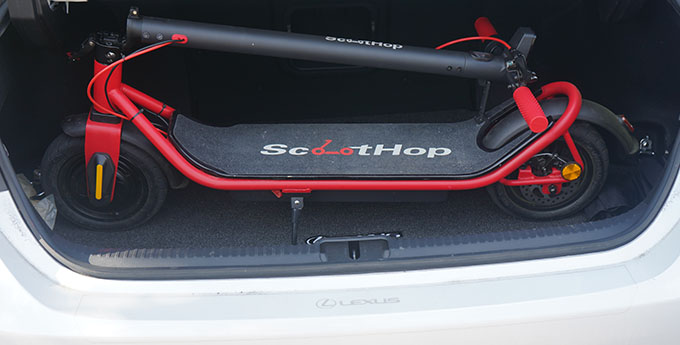 That too, in a matter of just a few seconds. Once it is time to go to another destination, all you have to do is 'open' it back up, again, in just a few seconds. You will learn more about the e-scoot when you assemble it.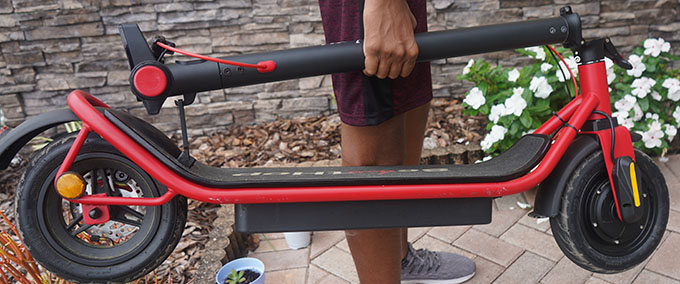 The e-scooter can do a max speed of 15.5 mph with the help of its 350W brushless motor on one of the riding modes. This motor can be turned on by pressing the power button for 3 seconds. By the way, the B1 comes with cruise control. It is capable of taking a max load of 220 lbs and can climb up to 15% of max inclines.
Safety Features
The ScootHop B1 comes with necessary safety measures to avoid bumping into things accidentally, especially at night. The reflectors equipped at all sides also give your ride extra visibility during the dark.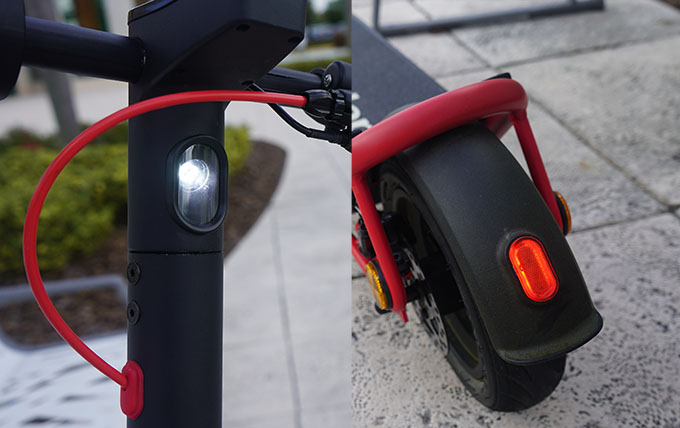 It comes equipped with a discretely installed LED headlight on the front stem. The headlight is bright enough to reach of 15 meters for clear vision at night or while in tunnels. Additionally, you can find a tiny tail lamp on the rear fender as well to give you good visibility in night driving.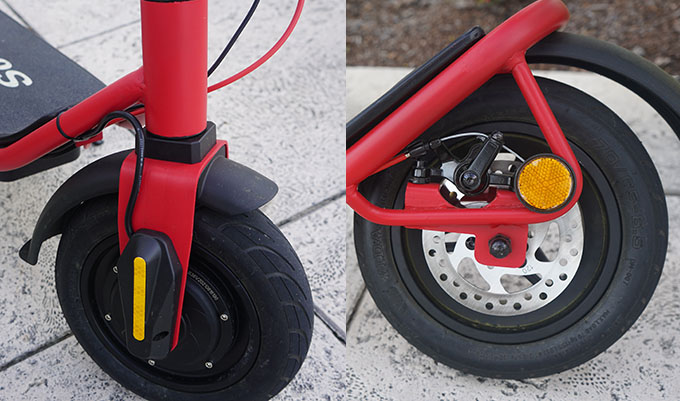 Braking duty in the front is electrical for that extra bit of power. However, the rear one is a mechanical disk brake, that calibrated with some extra power that can stop you immediately in case if there is a an issue. The braking action for the ScootHop B1 electric scooter is quite sturdy and reliable.
The breaking system comes with both electrical and mechanical. The mechanical liver cuts off the Electric Motor power and also activate the disc break attached to the real wheel. This offers additional security by cutting of the power to the motor for effective breaking.
If you are going to use this in your college campus or work and want to park outside, you must have an additional lock to protect your e-scooter. We wish if Scoothop had a screen lock/alarm or mechanical lock to protect the scooter, that would be great.
Related: 12 Best Budget-Friendly eBikes to Buy
Battery Range and Recharging
We can now talk about what ScootHop B1 has to offer to kill our range anxiety. The battery is 36V/10AH battery good enough to provide enough power for 350W motor. At full charge, the ScootHop B1 Electric Scooter can run for 25 Miles before you stop to recharge. We have tested this and unfortunately there is no odometer on the display, However, we got more than 22 miles with one batter charge and this still depends on the rider's weight and the street you ride.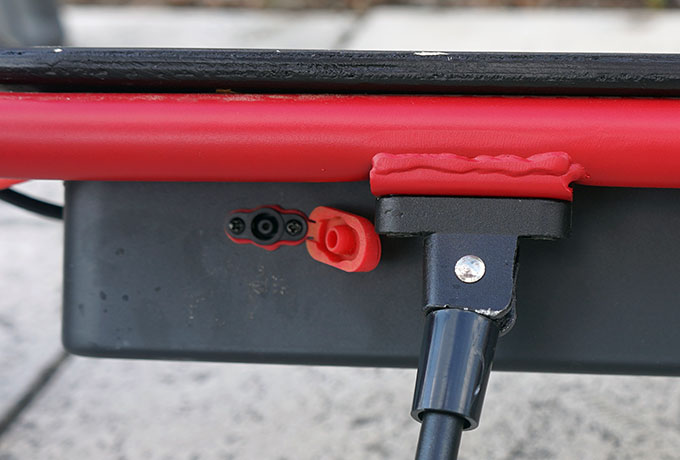 You can recharge its 36V/10AH battery in 3.5 hours of fast charging and six hours with the normal charging cable to juice up the ScootHop B1 Electric Scooter for the next run. The charging port can be found right beside the kickstand under the deck.
Build It Up
Yes! Most of the scooter will be assembled but the handlebar and the base are packed separately. As much as it may sound complicated, it isn't. For you just have to insert the handlebar in the base and you are good to go. Of course, the user's manual will tell you the how-tos of tightening the screws, charging the batteries, etc.
Pros and Cons
What we liked:
Long range Battery
Three speed-modes
Lengthy floorboard for commute
Large tires and comfortable ride
Decent headlight for night drive
Strong body and design
What we disliked:
Robust build comes with some weight
Difficult screen readouts under direct sunlight
No locking feature
Control buttons are not smooth.
Key Features: 25 miles range | 3.5 hours fast charging | 10-inch tires for comfort and rough stuff | LED headlight with 15 meters range and taillight | 350W brushless motor | High capacity 36V/10AH battery | 3 speed-modes | Maple wood floorboard | Load-bearing capacity of 220 lbs | Foldable design
Related: 7 Best All-Terrain Hoverboards for Off-Road Rides
What's in the Box
The ScootHop B1 Electric Scooter is an e-bike that will take you places without worrying about range since it comes with enough range. This range will let you commute without any anxiety and will also let you carry it conveniently. Let's have a look at what comes in the box with the ScootHop B1 Electric Scooter.
1x B1 Electric Scooter
1x Charging Adapter
2x Hexagon Wrench
1x User Manual
Price and Availability
The ScootHop B1 Electric Scooter is nothing less than a value-for-money deal for you. It comes with enough juice for you to travel in a day, especially if you are an urban commuter. With that, ScootHop has also made sure that the e-bike's battery is smart enough to calculate the remaining power to give you the best efficiency rate, depending on how you ride it. You can buy the ScootHop B1 from Amazon or their official store for under $600.
Our Take
The ScootHop B1 has taken birth as a robust e-scoot for starters and commuters alike. It comes with a share of charge that is enough for a day's commute. I wish this one had an odometer and the screen lock to make this to the top of the e-scooter category.
The motors are powerful and the battery offers enough juice to ride for a decent commuting distance. The frame is strong enough to handle an above average size adult. Scoothop B1 is not in the top of the e-scooter category, but if you are looking for a decent e-scooter with a strong frame, you can consider ScootHop B1 in to your shopping cart.